A few months ago, I took a trip to New Orleans for a scientific conference.  The famous Bourbon Street was a ten minute walk from our hotel, and we ate dinner in the French Quarter nearly every night.
My first trip down Bourbon Street was crowded and I was mostly just trying to keep track of my group so that I didn't get lost in the throng of people.
My second trip down Bourbon Street, I got to take a better look around. 
And I didn't like what I saw. 
Every other brightly lit sign enticed people to come into strip clubs and sleezy bars and questionable establishments.  (To be fair, there are some reputable and higher class bars/restaurants on Bourbon Street).  But it's not just the signs that these establishments use to try to get people to come through their doors.  At every strip club, there is at least one bouncer telling people to come in and that it's free and what they're going to get when they go in.  And in the doorway, there's always at least one scantily clad (sometimes not at all clad) woman moving her body to get the boys on the street to come in.  And then there are the college students, clearly on spring break, on the balconies above the street, throwing beads down to the people walking through the street, whooping and cat-calling for anyone they (in their drunken state) found attractive.
My third trip down Bourbon Street, I was tired and not really paying attention to what was around me.  It was raining, and I was mostly trying not to get our group lost.
My fourth trip down Bourbon Street, I was overwhelmed.  The line from a song that came to mind: Waitin', waitin', I'm waitin' on the world to change.
I was filled with sadness at the things that I was walking past.  My heart broke for the people for whom this was their only reality, for whom this may be their only option for a job.  I wanted so much to yell up at the college students on the balconies, "There's so much more to life than this.  Don't waste your life chasing things that won't satisfy.  Come to the well, where Jesus will freely give you Living Water, and salvation."
But when the bright lights and pretty beads and glittering storefronts beckon, it's a hard sell for anything else.  The Church doesn't dazzle in the moonlight or have a glowing sign.  In fact, our lights are usually off and our doors locked at the hours that Bourbon Street is open.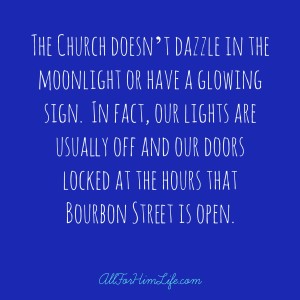 We've got to do more than just wait on the world to change – because on its own, it won't.  But I'm not suggesting we go hand out tracts on Bourbon Street, either.  Let's start by living life so that people can see whom we serve.  Let's love like Jesus loved, no matter what people have done or how different they are from us.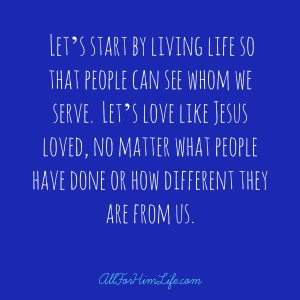 And maybe, just maybe, we'll be doing more than just waiting on the world to change.
***This post was first published at allforhimlife.com***
---
Kristen Entwistle is the blog manager for Broken Beautiful BOLD and is a graduate student pursuing her PhD in biochemistry and molecular biology at Michigan State University. She helps to lead worship at her church on Sunday mornings and leads a women's Bible study on Saturday mornings. She was diagnosed with cystic fibrosis when she was three months old, and has seen God work through the ups and downs of life and through her disease. In response to God's calling, Kristen started All For Him Life, a ministry seeking to encourage and challenge women of all ages in Christ with FREE Bible studies offered throughout the year.
Connect with Kristen online:
Facebook: Facebook.com/allforhimlife
Twitter: @allforhimlife
Website: allforhimlife.com